Next generation buildings
Control the lighting and shading in your building very comfortable wireless with a smartphone. Intelligent buildings control with Casambi, well proven and very robust. We offer numerous solutions for smart buildings.
Worldwide network
standard for buildings
The wireless system allows remote control of devices via smartphone in a very simple way. Global members and big companies support the Casambi mesh standard and offer a high range of products for many applications.
---
Control directly on-site via APP
Decentral
Decentralized Casambi modules can be installed directly on site at the load and can be operated very conveniently by push-button or smartphone. The cabling effort is significantly reduced.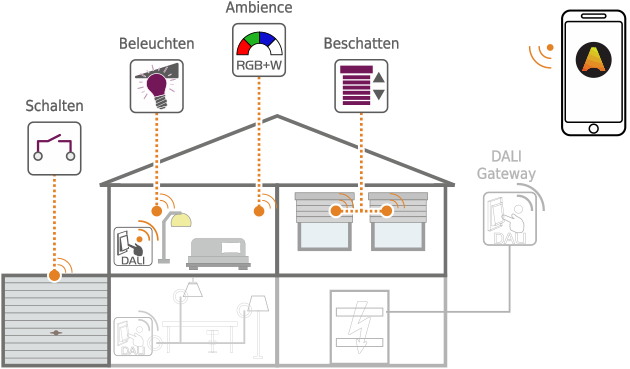 ---
From Casambi to DALI and back
Central
Control central DALI modules via APP
Through our Casambi-compatible CI4 / DALI push-button interface, DALI modules in the control cabinet can be controlled via APP. Combined with decentralised Casambi and DALI actuators, the system can be operated very conveniently by push-button or wireless.
Combination of DALI and Casambi

Cost-effective room solutions

No more junction boxes
---
---
Download Casambi Flyer 2022

Blind actuator
Switch actuator for roller shutter,
blinds, awnings, ..
Local control with external push button
Numerous time functions

DALI Input Controller
4-fold push-button-interface
DALI-button coupler
Casambi enabled module
Gateway: DALI to Casambi

Casambi Input Controller
4-fold push-button-interface
Tiny dimensions 44x29x16 mm

Casambi mesh net repeater

Mains powered


Phase dimmer
Casambi LED-/Retrofit-Dimmer
AdaptiveDIM
R,L,C including LED Retrofit
Additional push button input

Switch actuator
Switching devices via smartphone
High inrush currents possible
Numerous time functions

LED-Dimmer
LED-Dimmer constant voltage
RGB-W | Tuneable white
Control: Casambi, DALI/push button

maintronic - OEM experts ...
Smart products for building automation
As an innovative German electronics manufacturer with decades of experience in the field of building automation, we are an OEM supplier and reliable partner of many well-known companies.
For building automation, we offer an extensive product range of dimming and switching actuators for the KNX, DALI, DMX and Casambi protocols for the wireless world.
Visit our building automation products